MediaTek's octa-core Helio P10 SoC is a strong, efficient competitor
9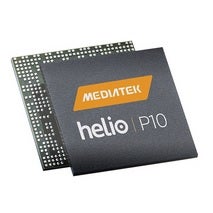 It was back in early May that MediaTek officially unveiled the
deca-core Helio X20
, the very first mobile processor to include ten cores. We're still awaiting our first device to feature the chip, with the eventual successor to the Xiaomi Mi Note
seeming a likely candidate
. But with it being less likely that the X20 will be ready for smartphones and tablets this calendar year -- the first devices running the chip will probably appear in Q1 2016 -- MediaTek has taken the wraps off another strong SoC at Computex.
The Helio P10 is not as powerful as the X20, and nor is it meant to be. Rather than concentrating on raw power, the P10 focuses on efficiency and all-round performance, although remains a very robust and capable customer. The 28nm chip features eight 64-bit Cortex-A53 cores that can be clocked at up to 2GHz, and while a true beast would opt for Cortex-A57s, the use of A53 cores instead should have a positive effect on battery life.
The P10 also includes a 700MHz dual-core 64-bit Mali-T860 GPU, and Cat. 6 world mode LTE (300 Mbps down / 50 Mbps) with carrier aggregation. There's also a TrueBright ISP that supports "ultra sensitive" RWWB optical sensors, which can supposedly capture double the light and offer better color resolutions compared with standard RGB sensors.
The Helio P10 won't need a separate audio chip thanks to its in-built HiFi audio, rated at 110dB SNR and -95dB THD, and with the company's MiraVision 2.0, the chip will be able to support 60fps full-HD displays.
Where the Helio X20 is unlikely to rear its head until early next year, though, the P10 will begin shipping in Q3, with the first wave of devices expected to make it out before the year's end.