Man wears gun-shaped iPhone case in an airport, now facing charges
79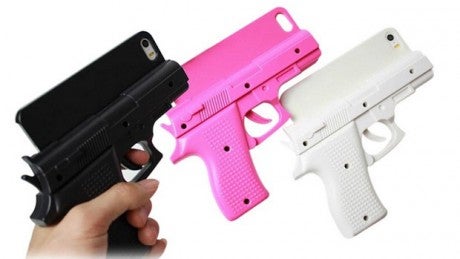 Wearing a gun-shaped iPhone case at an airport? Bad idea that could have fatal consequences
In times of terrorists attacks taking place more often in public places, the last thing you would want to do - if you're a sensible person, that is - would be to show up with something that looks like a gun in your pocket.
Yet, that's exactly what happened recently at the busy London Stansted Airport, where a man thought it was a fun thing to do to walk around with a gun-shaped iPhone case that had police on their toes.
The man is facing charges
The officers noted that in cases like this policemen have a "split second decision to make" and warned future case experimentalists that it "makes it much less likely you'll catch your plane" if you carry a similar case. Not to mention that wearing such a case might result in fatal consequences for the jokester. Keep in mind that the images you see below are just stock images for illustration. In the particular gun case, the man was not wearing the case in such a clearly visible way, but the case was found during a security search.
The man is now facing charges on grounds of a law against using threatening words or behavior to alarm or distress. He could also face charges for possession of an imitation of a firearm in a public place.
Police has warned against the use of such provocative cases in the past and online retailers such as Amazon and eBay have banned sales of gun-shaped phone cases. At the end of the day, unless you're an out-of-control teen, it should be obvious that carrying a gun-shaped phone case is a bad idea.
You have a split second decision to make ... #WhatWouldYouDo#joblikenoother#AirportCopspic.twitter.com/qxiq7OxXjQ

— Essex Police STN (@EssexPoliceSTN) July 6, 2016
This is what was in the back pocket ... An #iPhone case. Someone decided to put themselves in such a situation today pic.twitter.com/Lu66Et1bdg

— Essex Police STN (@EssexPoliceSTN) July 6, 2016


via 9to5Mac