This AR-powered interface might change the way we use our phones
5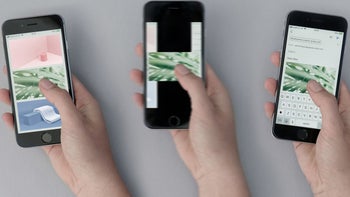 The way we interact with our smartphones has gradually changed over the years. We've seen physical keyboards and navigation keys vanish from newer generations of handsets as manufacturers race to squeeze ever-larger screens into devices while keeping them relatively compact.
The latest step in this evolution is the gesture-based interface present on Apple's
all-screen
iPhones
and
Android Pie
. One can now multitask and switch between apps with a single swipe of a finger, which effectively eliminates the need for any navigation keys. While these gestures are undoubtedly more convenient for cruising through your device once learned, it turns out there might be an even faster and more intuitive way to get things done.
Special Projects, a U.K.-based design and invention consultancy, has come up with a new smartphone interface that emulates how we organize and perform tasks in real life. The company's Magic UX solution cleverly uses augmented reality to "attach" different apps to a fixed space within the physical world.
For example, if you're writing an e-mail, you can assign several different app spots in the space around you. If you want to copy or add information from the apps into your composition, you can just drag and drop it by moving your phone from one location to another. This allows you to get things done quickly without constantly swiping and scrolling through the Recents tab or app switcher.
"In the real world,"
explains Special Projects cofounder Clara Gaggero Westaway
"we use our desk space to organize ourselves — our computer, pen, paper and so on — but we rarely use this physical space to navigate the digital world. The way humans behave can really enrich our digital interactions, and that's what inspired us to create Magic UX."
The great thing is that you can also move metadata such as calendar and map entries in addition to text and pictures. Also, there's no limit to the number of apps you can "pin" in such a way. Another valuable feature of the AR-powered interface is that it can save your virtual desktops and remember the exact location in which you created them, meaning that you can have instant access to the set of apps upon arrival.
"On a smartphone, alternating between tasks can often feel unnatural and disrupt workflow. With Magic UX, we aimed to transfer physical behaviors into the digital world, making the process seamless,"
says Adrian Westaway, Director and Co-founder of Special Projects
"As a member of The Magic Circle, I've used the same methods magicians use when creating illusions to ensure we've created an effortless and enchanting product experience."
While Magic UX might not completely substitute the gesture-based interfaces of today, it won't be too far fetched to think that some version of the software could be integrated into iOS and Android at some point. At a first glance, the concept appears to be both sensible and simplistic, and we wouldn't be surprised if it attracts the attention of the big players in Silicon Valley. That's precisely what Special Projects is aiming for, as the company reports that it has patented the technology and is in talks with several leading tech firms with a hope to integrate it into every smartphone OS.
If you want see Magic UX in action, feel free to check out the video below. After watching, please let us know what you think in the comments section below! Do you like the idea or would you prefer sticking with your current way of navigation?
Recommended Stories