MagCable Kickstarter promises magnetic charging for (almost) any phone
28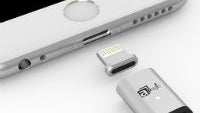 Kickstarter is an interesting but questionable place. There's no guarantee a good idea will get funded, and even if a project is fully funded, there's no guarantee that the product itself will ever be released. But, some ideas are cool enough that they deserve a shot, and we think MagCable might be one of those, because it promises magnetic charging for most phones.
The project is already fully funded, but there's only 35 hours left to get in on it. The idea is pretty simple: you can choose between a Lightning plug for an iOS device or a Micro-USB plug for most other phones (sorry to those with phones already on USB type-C) and that plug will stay in your device at all times. Then there is a reversible magnetic adapter that hooks on to give you power. We like the idea because it can help to save your charging port from damage that comes from constantly plugging and unplugging cables, and just in general magnectic charging cables are easier to deal with.
The product isn't perfect though. As noted, it doesn't have a USB type-C option. Additionally, the cable itself is only one meter (~three feet) long, which isn't terribly long, and while it appears as though the plug component should stay in your device, if it doesn't it looks like it could be pretty easy to lose. Lastly, the product does not yet have Apple MFi certification, though the team says it is "looking into it".
A single cable and plug will set you back $12 to $15, but there are bundles if you want to stock up on a bunch as well. And, as a bonus for how soon the Kickstarter is ending, cables are scheduled to start shipping this month, though most ship in November.