MTS report shows shocking growth for Samsung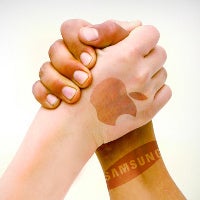 MTS is the biggest carrier in many Eastern European countries, but it's biggest in Russia where the operator home is. And its report for the first three months of 2012 shows some very interesting developments in that part of the world. First, Samsung has shown tremendous growth almost completely cannibalizing the fall of Nokia.
The South Korean phone maker saw its revenue market share surge from 14.8% to 32.3% since Q1 2011. With the launch of the flagship Galaxy S III this will likely grow even further.At the same time, Nokia was the biggest loser, sliding from 47.5% of the revenue market pie to a mere 27%. Sony Ericsson, HTC and other smaller companies also took advantage of that opening and grew slightly.
Interestingly, Apple's momentum in Russia is slowing down with the revenue market share decreasing from 15.6% to 14.9%.
Why is this so? We can see a couple of reasons - while the US market is one where carriers dictate the rules and subsidized smartphones on 2-year plans are the rule, in Russia pre-paid is the most popular model and there are no handset subsidies. This reveals the huge off-contract price of the iPhone, which is not something that many can afford, so people opt for more affordable handsets and that's where Samsung's diversity pays off.
On the other hand, Russia is probably Nokia's last stronghold, and Symbian is still the most popular platform out there. The brand's popularity has declined hugely, but it's still liked.
source:
MTS
via
BGR