Lyft president Zimmer: "We're not for sale"
6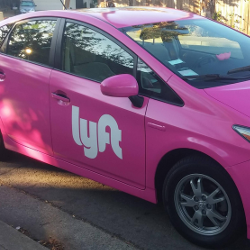 A couple of days ago, we passed along a report about ride sharing company
Lyft's attempt to find a buyer willing to pay $9 billion for the outfit
. Lyft had reportedly approached a who's who of tech firms including Apple, Alphabet and Microsoft, but came away without a deal from any of them. Other companies that were rumored to have talks with Lyft included industry rival Uber, Amazon and GM.
Lyft president John Zimmer said in a published report today that the company is not for sale, and stated that Lyft was approached by companies looking to buy it, not the other way around. "Getting approached and then having it characterized as us wanting to sell the business and failing to do so is a large mischaracterization," said Zimmer. "If the company is approached, it doesn't mean the company is looking." Lyft normally refuses to respond to M&A rumors, but this time the rumors "crossed a line," according to the executive.
Zimmer did add that over the company's life it has been approached by other companies looking to acquire the company. He added that Lyft had a responsibility to its investors to check out any offer made. "That's happened multiple times throughout our business. It's actually more of a normal course of business than has been portrayed, and of course we have to review anything that's of legitimate interest," he noted.
A published report on Friday said that Uber wouldn't pay more than $2 billion for Lyft, a comment that left Zimmer seething. "I think it shows a bit of overstepping on Uber's part ... that fully demonstrates who is behind this," he said. The latest round of financing for Lyft valued the company at $5.5 billion.
source:
BusinessInsider