Lumia 830 poses for the camera in Brazil, bares all, inside and out
38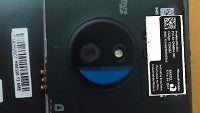 The first all new Windows Phone to come from Nokia Devices, now Microsoft Mobile, is the fairly
well leaked Lumia 830
. While all we are really waiting for is an official announcement, there is still a fair amount of detail we do not fully know.
Form factor-wise, the Lumia 830 keeps to the original design intent for Windows Phone and Nokia. That is, volume, power/lock, and a dedicated camera button along the right side of the device. The quintessential thick bezel remains too, including dedicated capacitive navigation buttons.
Aside from the
Lumia 1020
-esque camera motif on the back, the Lumia 830 also follows the form factor of the
Lumia 925
a bit. The audio and micro-USB ports are on the top of the device. The display sits within a frame that appears to be metal. However, like the
Lumia 820
, the back plate is removable, providing access to the battery, SIM card slot, and microSD card slot.
On paperwork submitted to Brazil's version of the FCC, Anatel, Nokia branding remains on the front of the device, and Microsoft Mobile is on the manufacturer's tag underneath the back plate. The paperwork also confirms that the device will be sold as the Lumia 830.
The certificate from Anatel also confirms Bluetooth 4.0 LE, Wi-Fi that is compliant with 802.11a/b/g/n, and LTE data connectivity. What we are still awaiting confirmation about is what will be the final resolution of the camera, though we are confident it will be a PureView equipped sensor. The type of processor and amount of on-board storage is also not yet known.
The exact size and resolution of display is up for discussion. Since the Lumia 830 is expected to be a bridge between the
Lumia 630
/635 and the
Lumia 930
/Icon and
Lumia 1520
, we would not be surprised if it followed the formula of its predecessors with a 4.5-inch, or maybe 4.7-inch 768x1280 display.
Availability of the Lumia 830, or a variation thereof, in the US is anticipated with AT&T, T-Mobile and Verizon. Microsoft has a press event
scheduled for September 4th to kick off IFA
in Berlin. PhoneArena.com will be there to bring you all the news which we hope will include an announcement of the Lumia 830.
source:
WPCentral