Lower than forecast handset sales could lead to a multi-billion dollar write off for Microsoft
99+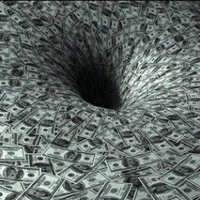 The
$7.2 billion acquisition of Nokia Devices and Services announced by Microsoft on September 2, 2013
turned into a $9.4 billion deal by the time it closed. The guys working in Redmond on the financial aspects of the deal, considered $5.5 billion of the purchase price to be
Goodwill
. That is the amount of the cost of an acquisition that consists of intangible assets like the value of a company's name, good customer and employee relations, patents and proprietary technology. Another $4.5 billion of intangible assets not considered Goodwill was also part of the deal.
The danger is that if the purchase of Nokia Devices and Services doesn't work out as expected, that $10 billion becomes the source of a possible write off for the software giant. And recent public comments made by Microsoft brass make it clear that phone sales are falling well under the projections made at the time that the merger was announced. Back then, Microsoft forecast that by 2018 it would own 15% of the smartphone market and would ship 1.8 billion handsets that year. It also predicted a 5% to 10% operating margin resulting in operating income of $2.3 billion to $4.5 billion. The company has already said in an SEC filing that "
In this highly competitive and volatile market, it is possible that we may not realize our forecast
."
Listening to comments made by executives such as CEO Satya Nadella ("
We need to take further action to reduce our costs across devices
") and CFO Amy Hood ("
the changing mix of our portfolio to the value segment and the significant negative headwind from FX will impact our ability to reach operational breakeven in FY16
") might be a bit disheartening to Windows Phone fans. But comments from the company's recent 10-Q filing with the SEC makes things sound even worse.
Microsoft says that given the condition of the Phone Hardware business, any decline in cash flow, or forecast or future unit growth rate could trigger a huge write-off against earnings. The advantage to writing off some or all of the $10 billion is that it will allow Microsoft to start fresh in the hardware business. It also makes it easier to sell the division or to spin it off. Sure, it will make a quarter and a fiscal year look bad earnings-wise, but investors and Wall Street usually ignore such write offs and tend to look ahead.
"In the third quarter of fiscal year 2015, Phone Hardware did not meet its sales volume and revenue goals, and the mix of units sold had lower margins than planned...Given its recent performance, the Phone Hardware reporting unit is at an elevated risk of impairment. Declines in expected future cash flows, reduction in future unit volume growth rates, or an increase in the risk-adjusted discount rate used to estimate the fair value of the Phone Hardware reporting unit may result in a determination that an impairment adjustment is required, resulting in a potentially material charge to earnings."-Microsoft's 10-Q filing with the SEC
The company has taken a huge write off before following an acquisition. Three years ago, Microsoft wrote off $6.2 billion following the purchase of aQuantive. It would seem that a multi-billion write off is in the works again for Microsoft. The comments from the executives and the SEC filing are trial balloons, preparing everyone for an announcement that seems to be on the way.
Thanks for the tip!
source:
MotelyFool