Lower-end BlackBerry 10 smartphone pictured again
16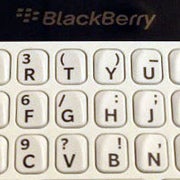 A
$50 BlackBerry handset may never materialize
, but a cheaper alternative to the company's current devices, namely the
Z10
and
Q10
, may already be in the works. Actually, we think we have an idea as to how that mysterious lower-end BlackBerry will look like. The photo that you see here comes from a forum post and exposes a yet-unannounced BlackBerry model with a QWERTY keyboard. According to the member who posted the image, that's an "R-series" device – a spiritual successor to the Curve lineup, running BlackBerry 10 OS.
Most of its hardware specs are not yet known, yet word on the street has it that its battery cell with 1800mAh of charge while the 8GB of on-board storage will be expandable using a microSD card. A front-facing cam is also visible, and we're assuming there's a snapper on its back as well.
Whether this BlackBerry R10, or whatever its name turns out to be, is a device meant to be released on the market, isn't clear. It might be nothing more than a scrapped prototype or a developer's device. Or perhaps BlackBerry wants to wait and see how well its high-end models will sell and then decide whether it would launch a lower-end BB10 handset. Hopefully we'll learn more on the matter in the near future.