BlackBerry CEO forgets the push for emerging markets, says there won't be any budget BlackBerry handsets
22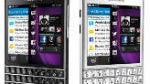 There has been a trend recently for companies that are pretty low in the market share race to abandon low-end devices in favor of catering to the "premium" handset market. We've seen
HTC
do it, and heard rumors that
Sony
may as well, but neither of those companies has a strategy built on emerging markets. BlackBerry does, so Thorsten Heins' comments that there won't be any budget BlackBerry 10 handsets comes off very strange to us.
Let's try to follow the logic for a bit: BlackBerry has taken a dive in the market. The only places where the platform still has traction is in emerging markets like south-east Asia, Africa, South America, and the Caribbean. Emerging markets tend to focus quite a bit on cost, and users in India are already somewhat angry at BlackBerry over the cost of the Z10. And now, BlackBerry CEO Thorsten Heins has been quoted as saying:
Understand where you are playing and resist being talked into segments that you know will not serve your purpose and will not result in shareholder value. You will not see us getting into the 50-, 60-buck phone segment. This is not BlackBerry.
Heins did go on to say that, "You will see new products being launched this year based on BlackBerry 10, all fully LTE-capable, the whole 10 yards, that are more geared towards those price bands where people need to be."
So, what are we to believe? Are we to believe Heins saying that there will be devices "geared towards those price bands where people need to be", or do we believe Heins in saying the company will not be "getting into the $50... phone segment"? Maybe a better question is: does it matter?
BlackBerry has fallen a huge amount. The platform's relaunch with BB10 has yet to hit the US, but it has been released in Europe and other regions, and the success of the new device is unclear, but at the very least it is not the clear-cut hit that the company needed in order to make a real comeback. The company said that it would be focusing on emerging markets to build up the platform's market share, but will not be offering budget handsets that would appeal to those markets.
It almost feels like BlackBerry really isn't trying to succeed, but rather to focus on "shareholder value", which sounds a bit like code for "selling the company." The strategy that BlackBerry has put forward is unclear and contradictory; the hardware is okay, but not great; and, the software has some good ideas, but seems to lack the execution and polish needed. Thorsten Heins has done an admirable job of trying to right the sinking ship, but it doesn't look like he's on track to succeed, and we may ultimately see the company sold, at least in part, just as we've heard rumored so many times.