Lower demand for VR expected in 2017
9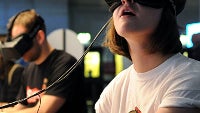 2016 is a year in which we've seen a lot of companies taking bold steps into the world of Virtual and Augmented reality. While many pundits might argue that this is a sound investment as this new market is expected to grow by more than $150 billion by 2020 according to the IDC, the reality of today and the forecasts for next year tell a different story.
The concern that several market watchers share is that the demand for this technology in 2017 won't be as high as predicted, due to a combination of high pricing per unit and a lack of content. This skepticism is further confirmed by the lower-than-expected sales of Google's Daydream View, Oculus Rift, Samsung Electronics' Gear VR, Sony's PSVR and HTC's Vive.
While tech giants with near-infinite resources such as Google, Samsung and Sony wouldn't have too much trouble to sit and wait for this promising market to develop, HTC could potentially be facing a crisis next year, as its share of the global smartphone market is decreasing and Vive has yet to become a bestseller. Computer manufacturers Acer and Asustek might also share the same fate, as both companies have invested heavily in AR/VR and their new products are expected to hit the shelves in Q1 2017.