Low-end Nokia Lumia models continue to gain strong momentum
22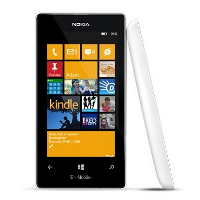 The latest monthly stats are out from mobile ad network AdDuplex. For September, Nokia represented 88% of the Windows Phone market globally. The low-end of the Nokia Lumia range continued to do very well with the
Nokia Lumia 520
representing over 21% of the platform on a global basis. Looking at just Windows Phone 8 models, the Lumia 520 captured 31.6% of that market in September. In the states though, the Nokia Lumia 520 owned only 3.6% of the Windows Phone market. But that is because the device's twin brother, the T-Mobile Nokia Lumia 521, had captured 14.2% of the Windows Phone market for itself. The phone
recently was spotted on sale at HSN for $80
(including the use of a coupon code) and that is off contract. $80 is a hard price to beat considering the value you are getting for the money.
While Nokia has been kicking butt and taking names on the low end of the Windows Phone market, on the high end it has not done as well. The
Nokia Lumia 1020
and its 41MP PureView camera is not even close to being represented on the global and U.S. pie charts. Meanwhile, this month the
Nokia Lumia 920
had a 9.3% and 13.3% share of the Windows Phone market globally and in the U.S. respectively.
Some of the other charts showed off interesting stats. While you might think that AT&T would be the top U.S. mobile carrier selling the Windows Phone platform, that honor actually goes to Verizon. The top mobile operator in the nation made 35% of all Windows Phone sales in September vs. 32.3% for AT&T. With 19.2% of the Windows Phone market in the states this month, T-Mobile is third. AT&T has had to cut the price of the Nokia Lumia 1020 from $299.99 on contract to $199.99, signifying the difficulties that Nokia and Windows Phone have had on the top end of the market.
But those problems might soon go away thanks to the GDR3 update. This Microsoft pushed update will allow Windows Phone models to offer larger sized screens with 1080 x 1920 FHD resolution, and carry more powerful processors like the Qualcomm Snapdragon 800 expected to be under the hood of the upcoming
Nokia Lumia 1520
.
Expected to be unveiled in two days
, this model is supposed to be the first Windows Phone phablet with a 6 inch glass. Interestingly, 67.7% of active Windows Phone 8 models active have the GDR1 Portico update in use while 30.6% are running GDR2.
Speaking of Windows Phone 7 (alright, no one really said anything about Windows Phone 7 but we needed a segue), about one third of active Windows Phone models are powered by the greybeard while the remaining two thirds are powered by Windows Phone 8.
The data from AdDuplex includes data up through September 20th. You can check out more information on Windows Phone than you'd ever want to know, including individual country breakdowns, by checking out the slideshow below.
Breakdown of Windows Phone usage for Septembe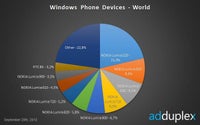 source:
WPCentral