Looking for a different sort of smartphone dock? This is different
8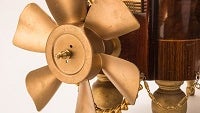 Who needs clean, modern lines when they set their smartphone into a dock to play music or sync data? Sure, such accessories have appeal, and stem from wonderful visionaries like Steve Jobs, but some folks just crave a little more flair.
This Steampunk Gramophone for iPhone or Android is anything other than plain (or modern). This handbuilt, wood, copper, rubber, and brass contraption measures up at 28-inches wide, and 34-inches tall. More or less, it is built to order.
For $625 it is nice to have options, and with this, you are sure to get them since it is built using a mix of antiques and nick-knacks from wherever. The whole set-up is inspired by an old General Electric radio design and transformed into
"a post-apocalyptic communication device, painstakingly assembled from bits and pieces of what its maker could find."
The centerpiece is a large German acoustic fiber horn which is a functional speaker thanks to an Apple Bluetooth speaker that is affixed at the base of it. It will pair with any Bluetooth capable device, though you may opt for a wired speaker if you wish, using a 3.5mm jack instead.
The smartphone dock and other appointments are finished in gold leaf paint. The unit as a whole has power and audio out connections. The maker of the Steampunk Gramophone for iPhone and Android dock is based in New Jersey and ships within the United States only. It may look old, but it is anything but the same-old, same-old.
sources:
TheCuriousArtwork
via
The Red Ferret