Looking for a SIM-free 16GB Google Nexus 4? Here are a couple of places to go
13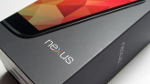 You are trying to buy the 16GB
Google Nexus 4
unlocked, so naturally you tried the Google Play Store first, but the phone was out of stock there. The
Play Store recommended that you check out T-Mobile's online site,
and even provided a link for you to click on. But you quickly found out that the phone was
sold out at T-Mobile as well
. Where can you go? What can you do? There is actually some hope for those who don't mind paying up for the 16GB Google Nexus 4, as the U.K.'s
Carphone Warehouse
has the handset in stock, and SIM-free.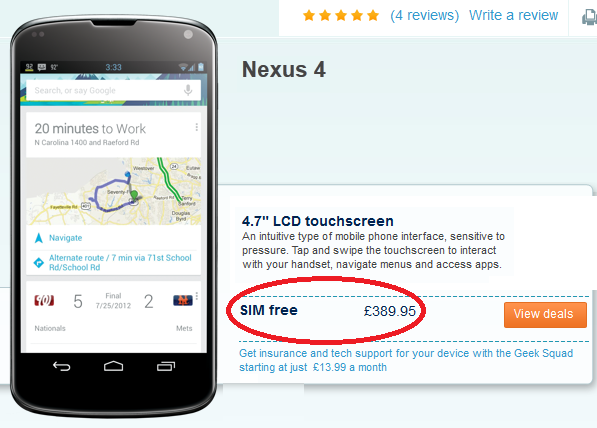 The U.K.'s Carphone Warehouse has the model in stock
Carphone Warehouse is offering the sizzling hot stock Android smartphone online (check the sourcelink) for a price of £389.95 ($621.11 USD) which is £110 ($175.21 USD) more than the price at the Google Play Store for the same exact phone. As we pointed out when discussing the possibility of buying the phone at a T-Mobile location that has stock, and paying $150 more than the price at the Google Play Store, you will have to decide how badly you want the device now. Eventually, the Google Nexus 4 will be back in stock at the Google Play Store, but the question is,
when
?
It is a classic case of supply and demand and right now Carphone Warehouse has the supply. Another place where you can actually grab the 16GB model of the Google Nexus 4 is eBaywhere a seller is offering the phone at a "Buy It Now" price of
$649.99
. The seller has a 100% positive feedback rating and has sold 19 units so far. At that price, you are paying $300 more than what the Google Play Store is charging for the model. Heck, you could buy a subsidized
Samsung GALAXY Note II
for the difference.
source:
CarphoneWarehouse
,
eBay
via
AndroidCentral

A seller on eBay has sold 19 units of the 16GB Google Nexus 4 for $649.99