Logitech brings solar powered K760 keyboard that works with all iDevices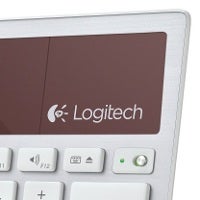 If we had to pick only the most essential accessories for a tablet or a smartphone, a Bluetooth keyboard would definitely be among the first picks - we definitely need it for our jobs, but still there seems to be little choice out there. The
Logitech K760
is one brand new option that comes with a solid battery life and a solar charger so you don't need any old-fashioned batteries.
It's made to work with all iOS devices – from MacBooks through iPads and, of course, the iPhone, but unlike it's predecessor, the K750, this one comes also with the Mac keyboard layout and keys specific for the platform rather than standard Windows buttons.
So basically you have the Command, Eject, Brightness and Volume keys where they need to be. Plus, there's a dedicated Home key that works just like the built-in Home button on an iPad or iPhone.
It's also got the Apple looks with a familiar grey and white color finish, all for $79.99. The Logitech K760 release date is set for June, but you can watch the promo video now.