Liveblog: Samsung's Unpacked 5 event (could it be the Galaxy S5?)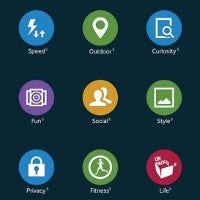 It's time. Samsung is about to hold its Unpacked 5 event, here at MWC 2014, and you know what we're all expecting to see on that event. That's right - the mythic Galaxy S5 - an epic smartphone that should arrive to become the latest iteration of what's probably the most successful Android smartphone line.
Separated from the noise and bustle of MWC, Samsung has occupied its own corner of Barcelona - the Centre Convencions Internacional - and it's dedicating this space to Unpacked 5. Well, judging by all the preparation and the lovely setting, this is just bound to be an exciting event!
EVENT START TIME: 2 PM ET | 1 PM CT | 12 PM MT | 11 AM PT | 7 PM GMT | 8 PM CET
Live event tracker
| | |
| --- | --- |
| 13:59 | We're rushing to the demo area to bring you all about the Galaxy S5, the Fit and Gear 2. Stay tuned! |
| 13:58 | Thanks for being with us! |
| 13:58 | Aaand that's it |
| 13:57 | "On April 11th, we will release these incredible devices in nearly 150 countries." |
| 13:57 | That's all for David. We seem to be wrapping up here. |
| 13:56 | Recapping everything we saw so far |
| 13:56 | |
| 13:56 | New premium Samsung headphones |
| 13:55 | Covers and wireless charging options |
| 13:55 | First heart rate sensor was supposed to draw applause... weird silence in the hall. |
| 13:55 | |
| 13:54 | Back to the Galaxy S5, world's first smartphone equipped with a heart-rate sensor |
| 13:54 | |
| 13:53 | |
| 13:53 | |
| 13:53 | Hey, built-in pedometer also |
| 13:53 | Built in heart monitor too |
| 13:53 | Compatible with 20 Galaxy devices |
| 13:52 | Instant notifications and replies to messages, awesome |
| 13:52 | You can swap the straps |
| 13:51 | Curved Super AMOLED on a wearable device, just 27grams |
| 13:51 | |
| 13:50 | "Take a look at the perfect Fit" |
| 13:50 | Now, time for a new option... |
| 13:50 | 5. Protection from the elements |
| 13:49 | Three times longer battery life, now up to 5 days |
| 13:49 | 4. Longer battery life |
| 13:49 | With Gear 2 you can sync with 17 Galaxy devices |
| 13:49 | Gear 2 comes in a range of options with black, grey and orange Gear 2 Neo |
| 13:49 | 3. More choices |
| 13:49 | Samsung is releasing Gear 2 SDK so devs can create apps |
| 13:48 | Gear 2 can control your TV with WatchOn - it has its own infrared! |
| 13:48 | those numbers are for the five Gear principles |
| 13:48 | 2. Extended ecosystem |
| 13:48 | Gear 2 rocks 4GB of memory so you can use it as a standalone music player |
| 13:47 | You also get your heart-rate |
| 13:47 | New watchface options |
| 13:46 | Gear 2 now comes with a home button |
| 13:46 | Samsung moved the camera, the speaker, and the microphone to the bezel |
| 13:46 | design improvements in Gear 2 were made with chic in mind |
| 13:45 | 1. Wear the smart style |
| 13:45 | 5 key areas |
| 13:45 | He's rocking a Gear 2 |
| 13:45 | JD is off the stage and David is back to talk fitness |
| 13:44 | |
| 13:44 | This is great for keeping your most valuable items |
| 13:44 | New Private mode, accessible only via a swipe with your very own finger |
| 13:43 | Fingerprint reader works as authentication for mobile payments, so you don't have to type long passwords |
| 13:42 | Enable it at 10% and your S5 would still be able to last up to 10 hours! |
| 13:42 | Now, we love this! It turns your phone black and white, and leaves just the essential features |