Liveblog: Motorola's announcement of the Moto G - cool Android for the masses
8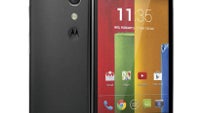 Motorola outed the Moto X earlier this year, and while the phone has failed to become a super-smash-hit, it's still rather cool little guy that truly impresses us with large screen but small dimensions, near stock Android experience and lovely always-on voice recognition capabilities. However, the Moto X never left the US, which means there are still a lot of people around the world waiting for their Moto handset.
Well, the good news is that their Moto handset is on the way, in the form of the global Moto G. Motorola is holding an event in Sao Paulo, Brazil, where it's going to unveil its latest Google-powered creation. While there isn't that much info about the phone right not, there are enough indications to make us believe that the Moto G is going to be a low-cost Android smartphone that will still aim to deliver a more than satisfying Android experience.
Join us as we follow the Moto G unveiling event as it unfolds - you can find our liveblog below. Things are expected to kick off at 9 AM ET | 8 AM Central | 7 AM Mountain | 6 AM Pacific | 2 PM GMT | 3PM CET.