Live: RIM's BlackBerry 10 launch event
32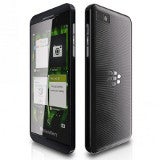 Today is the day for RIM and the whole BlackBerry fan club. After many delays, the Canadian company is finally ready to reveal its next-generation BlackBerry 10 platform, as well as the first devices that will make use of it. There is no Plan B. This is the all-in project for RIM, and there's no room for failure. The once popular manufacturer has managed to lose all of its appeal for most target groups, and has recently started to lose market share to its competitors in areas where it's been traditionally very strong. Whether this trend will continue depends on what we'll see today.
The BlackBerry 10 launch event will not only reveal all important details surrounding the new platform, but will also introduce us to the first BlackBerry 10 smartphones. How many and exactly what these smartphones are going to be like is still unknown, but it's safe to say that we'll see the much-leaked
BlackBerry Z10
full touchscreen smartphone, which alone is a quite a good reason for you guys to stick with us, because we're going to cover every single detail about the event and the products that will get announced there.
This is our liveblog dedicated to the BlackBerry 10 launch event!
Here you'll be able to follow its progress, as well as get info and pictures directly from the keynote. Stay tuned, guys, the event is scheduled to begin at
10AM ET | 9AM CT | 7AM PT | 3PM GMT
!