Lines of code: How our favorite apps stack up against the rest of tech
7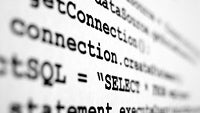 When you see how much effort goes into some of the tech we use, or are touched by every day, our mobile applications are not such scary monsters. In fact, some platforms are surprisingly light on the code front, whereas others that we expect to be "light" are far from it.
The average iPhone app has less than 100,000 lines of code. The now defunct Camino web browser approached the 200,000 line mark. Interestingly, the Space Shuttle had only about 400,000 lines of code. Not bad at all given the mission that vehicle was performing.
Similarly, the F-22 Raptor, the US Air Force's next generation fighter only has about 2 million lines of code to manage the chaos of ultra-high-performance flight. By contrast, Windows 3.1 had closer to 3 million lines of code, Google Chrome has about 5 million lines, Firefox is near 10 million and Android is about 12 million lines of code.
Windows 7 weighs in at under 40 million lines of code, a little less than Windows XP and more than 10 million less than Windows Vista. Facebook is just north of 60 million lines of code, which lies beyond the code needed to run the Large Hadron Collider.
The infographic is long, so we broke it down in sections (the whole thing can be viewed via the source link). Who or what uses the most amount of code short of the human genome? Well, we will not spoil it for you, but it is strangely unsurprising.
sources:
informationisbeautiful.net
via
Fast Company