Lines are forming for the Apple iPhone 5 from Tokyo to New York already
78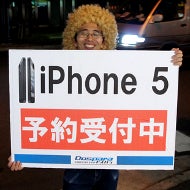 The typical new iPhone launch wait lines are already forming, some for the preorders, and some are straight out camping in front of stores for the first batch arrivals, which are not until this Friday.
In Tokyo's posh Akihabara district, the lines for the
iPhone 5
preorder have been significant, with more than 700 applications collected at one time, categorized according to the internal memory version.
Then we have good ol' USA, where fans have set up camp to wait in line for being the one of the first to get their hands on the new iPhone 5. While the Japanese efforts look genuine, the people in front of the 5th Avenue Apple Store seem to be doing it for the publicity mostly, say reporters that passed by. After all, it doesn't take more than a few mouse clicks to preorder one anyway, although wait times have been increasing.