Toughen up your iPhone X with this LifeProof FRE case
13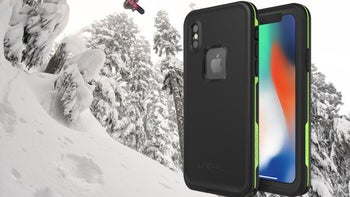 LifeProof, a California-based maker of protective cases andother smartphone accessories, today released a super-tough case for the iPhone X. Called LifeProof FRE, the new case will make sure that your iPhone Xsurvives even in extreme environments.
The LifeProof FRE case for iPhone X protects the handset againstdrops from up to 6.6 feet (2 meters), comes with a built-in screen protector,and is sealed to keep dirt, snow, and debris away. What's more, the LifeProofFRE enhances your iPhone X's water-resistance. Normally, an iPhone X cansurvive under water up to 3.3 feet (1 meter) for 30 minutes. With a LifeProofFRE case on, the smartphone will be safe up to 2 meters under water for 1 hour.
Priced at $89.99, the LifeProof FRE iPhone X case isavailable in six color variants. You can order the case from LifeProof'sofficial website - see the source link below. Each LifeProof FRE case comeswith 1-year warranty, and is shipped for free within the US. So, anybuyers here?
sources: LifeProof, Press Release