Let's look forward to 2015 with exciting concepts of upcoming smartphones from Apple, Samsung, and others!
27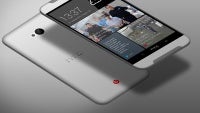 As we're crossing 2014's last days off our calendars, it's time to start looking forward to next year's flagship smartphones. But at this point it's a little early for leaks, which means we'll have to entertain our imagination with hopes, dreams, and concept images generated by enthusiastic designers. As is the usual deal with concepts, some of them look plausible, as if they're about to roll off from the assembly line and into our hands. Other thread the borders of science fiction with their ambition. Then there's the third kind, which is a little bit of both, and is therefore very debatable and interesting. 4K screens in 2015 - yay or nay?
Without further ado, here are the sweet concept renders of Apple, BlackBerry, HTC, LG, Microsoft, Samsung, and Sony's purported flagship smartphones for 2015.
iPhone 7

Aluminium unibody case, stainless steel, glass, slimness, Space Gray... sound familiar? This is the iPhone 7 as envisioned by xerix93 at DeviantArt. The design, while very detailed, is not particularly innovative. All we can say about it is that it is predictably Apple, which is a mark of quality in itself. But the screen resolution spec bump is welcome - the 4.7-inch screen makes the leap to 1080p, racking up a pixel density of 469 pixels per inch.






BlackBerry Odyssey

What if BlackBerry CEO/rescuer John Chen suddenly whipped out a red Moto Droid Turbo in front of his product team and said "bring me this, or there goes the Christmas bonus!" The result would probably end up like designer Raffi G's vision for an amped up, hard-boiled BlackBerry transformation. Slim bezels, metal grilles, tinted carbon weavings, lights flashing to the music's beat... if BB plans to reinvent the Bold series in 2015, this is a seriously bold design it can start with!



HTC One (M9)

The HTC One (M8) was a strong seller for the Taiwanese design obsessives. Hopefully, HTC's 2015 flagship will be another smartphone you will walk away from seriously impressed. These renders we found look plausible, and the LED stripes above the display are really cool. In terms of specs, it's actually been real quiet at HTC's camp - no benchmarks, no leaks, nothing! So it's anyone's guess how HTC will equip its flagship. If you ask us, we're tossing in a QHD screen and a Snapdragon 810 processor, and we're calling it a day!



LG G4

This fantastic LG G4 concept is brought to you by Rishi Ramesh. Up front, the design might not seem like much, but if you take a good look at the display and sides, you will notice the gentle, sophisticated curves that really set this concept in motion. Specs-wise, the most interesting thing about this LG G4 imagining is that it's thought up with a 5.7-inch 4K display, which seems to be in the realm of science fiction at this point. But if we catch LG announcing a 4K IPS panel for smartphones next year, we'd have no doubts where it's going.



Microsoft Lumia "Spinner Phone"

This concept by Jonas Daehnert got us very excited, as it reminded us of Nokia's era of bold engineering and design decisions. The "Spinner Phone" fuses bright ideas from the classic Nokia 3250 & N90 with their rotating cams, the Lenovo K900 with its imposing metallic shell, and the Lumia devices' bespoke design language. Seriously, what keeps Microsoft from making this a reality?



Samsung Galaxy S6
Designer Rishi Ramesh envisions the upcoming Samsung Android top dog with a slim, premium design. This beauty sports a 5.2-inch Super AMOLED screen with QHD resolution, a 32-bit Snapdragon 805 processor, 3GB of RAM, an 18-megapixel main camera and a 5MP front cam. No curved screens are to be found here, for better or worse.
Samsung Galaxy Note 5
This concept for Samsung's 2015 phablet heavyweight continues in the spirit of the Galaxy S6 renders - slim profile, clean lines, and a whole lot of screen! We don't think what we're looking at is far removed from reality at all, although Samsung will have an...
interesting
time fitting the S-Pen in a body so thin. The spec list served on the side includes an Exynos 7 processor or the Snapdragon 810 CPU, a 6-inch Super AMOLED 4K display, 4 GB of RAM, 32 or 64 GB storage, and a 20.9 megapixel shooter at the back. Mighty!
Sony Xperia Z4, Z4 Compact & Z4 Ultra

Ever since the Sony Xperia Z (2013), the Japanese mogul's hit devices have been about constant, subtle refinement. If things stay this way, 2015 will see the Sony Xperia Z4 and its brethren in the first half, and the Xperia Z5 family in the second half. The Z4/Z4 ultra renders and Ben Ling's Z4 Compact concept shown here hit the spot dead-center, looking much the same as the Z3 - but somehow better! Note that the Z4 Compact concept brings back the Sony Xperia SP (2013)'s illumination bar - an excellent feature that really differentiates a smartphone.




As for the Xperia Z4, it seems to be shorter than the Xperia Z3, thanks to its minimized top and bottom bezels. Meanwhile, the Z4 Ultra looks like the smartphone the Galaxy Note 5 is afraid of. If Sony is still interested in phablets, it better go for something like this. Tech-wise, all three are stuffed with top-shelf hardware, including 20-megapixel Exmor camera sensors and 3D surround technology. Tasty!