Lenovo's new ZUK brand to ship its first Z1 flagship with huge battery and U-Touch swipe pad
6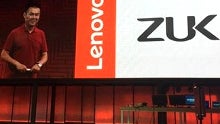 The Lenovo-backed ZUK brand that will run
CyanogenOS
will soon be releasing its first flagship - the Z1 (what else) - and some of its specs were tipped during a ZUK presentation. First off, the phone is expected to sport the so-called U-Touch system underneath the screen, which will be used both for unlocking the screen, like a fingerprint scanner, and for swiping around menus...
Sounds pretty intriguing for a handset that allegedly won't break the bank for you, but there are more details that were revealed on the presentation. The ZUK Z1 will feature a 13 MP rear camera of the "latest generation," whatever that means, but we'd wager to guess it will come with one of the recent Sony sensors. A few alleged samples have leaked from said shooter, and you can preview them in the slideshow below, bearing in mind that this is likely an early preproduction version.
The Z1 will support a bunch of 4G LTE frequencies out of the box, too, and will ship with a 4XXX mAh battery - yep, that is what's written on Lenovo's presentation slides, hinting at a 4000+ mAh juicer with the now-typical for Lenovo great battery life.
Previously, we 've heard that the ZUK brand flagship will sport a 5.5" 1080p display, 3 GB of RAM, and 16/32 GB of internal storage. There are also rumors for a Snapdragon 810 chipset, which might be hard to believe, considering the price point. So far, so good, especially for what is expected to be the $300 flagship of the new ZUK brand, and we'll relay to you any other details that trickle down before the August/September unveiling.