Lenovo planning on taking over Palm?
This article contains unofficial information.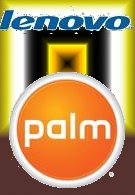 Despite their intentions on still trucking along and hopeful about staying alive to celebrate the one year anniversary of their first webOS handset's launch, there are rumors surrounding a company that is interested in buying Palm – and at the same time, save the company from a hasty demise. Speculations are swirling around PC maker Lenovo possibly interested in taking over the long time smartphone maker. It's yet unclear as to what plans they may have up their sleeves for Palm if they do indeed take over the company, but these rumors seemingly have a positive affect on Palm's stock value of late. Even though Palm CEO Jon Rubinstein may be
defiant
in looking for any potential bid offers, Lenovo's purchase of Palm could increase their visibility in the market as they are about to take the plunge with their Android powered
LePhone
. Just a reminder for those that might've forgotten, it features a 1GHz Snapdragon processor, 3-megapixel camera, GPS, Wi-Fi, QWERTY keyboard. Palm's patent portfolio is no doubt seen by many as a valuable asset to companies, but we're confident that some of the things seen on webOS could also be integrated into other platforms. You never know, Lenovo may opt to utilize webOS's leverage and integrate some of its components into some kind of customized Android experience a la Sense or MOTOBLUR.
via
Electronista