Lenovo also tries to poke fun at Samsung following Ellen's Oscar selfies
56
Earlier today,
Nokia
and LG
both tried to make fun of Samsung following Ellen DeGeneres' now-famous selfies took at the Oscars this Sunday. As you may know, the photos were snapped using a
Samsung Galaxy Note 3
.
Now it's Lenovo's turn to suggest that one of the selfies would've been better had it been made with something else than a Galaxy Note 3. Lenovo replied to Ellen's selfie that was taken by Bradley Cooper (and broke the record for the most retweeted picture), saying: "No long arms needed when you have MyVibe." The company attached an image of its
Vibe Z
Android smartphone, which features a 5MP front-facing camera with "84-degree wide angle lens." Too bad that the image is actually showing the smartphone using its rear 13MP camera, not the front-facing one.
Ellen's original comment on the record-breaking selfie is: "If only Bradley's arm was longer." Besides Bradley Cooper and Ellen DeGeneres, the photo includes stars like Meryl Streep, Brad Pitt, Angelina Jolie, Jennifer Lawrence and Kevin Spacey.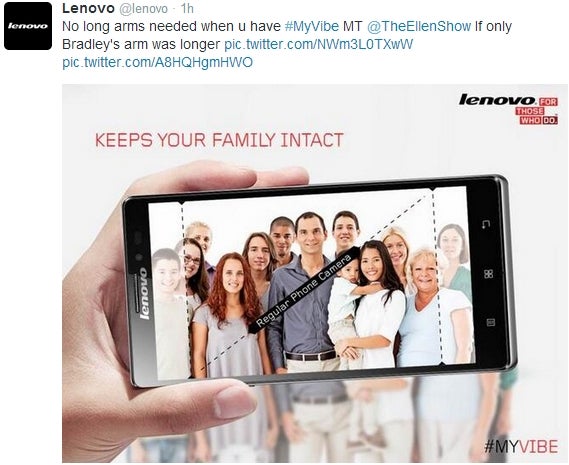 Of course, the presence of Lenovo's Vibe Z at the Oscars would've been rather pointless - the company does not sell smartphones in the US at the moment. Still,
Lenovo is buying Motorola Mobility
from Google (the deal should be closed later this year), and this will allow it to enter the North American smartphone market.