Leap Motion kicks off era of Minority Report gesture interfaces: coming to Best Buy May 13 for $80
4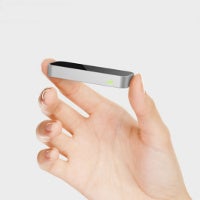 Leap Motion
might just change the way we interact with our devices - it is a flash-sized controller that enables devices to understand your hand gestures so you can say just flick your hand in the air above the controller to scroll around webpages. That sounds pretty awesome and futuristic, but what is even better is that the Leap Motion controller is actually arriving in retail stores like Best Buy on Mar 13th for the relatively affordable price of $80. Pretty sweet, isn't it?
How does it all work, though? It is somewhat similar to a Kinect in that it uses a depth camera, but it is much more compact and unobtrusive. It also seems to be very quick to respond with almost no delay.
Good news is Leap Motion has already gotten support for some key apps lined up: Autodesk, Corel Painter, Disney games and Double Fine's music app Dischord. We've seen demos of how well Fruit Ninja works and ZeptoLabs announced it has made Cut The Rope compatible. The Weather Channel will also deliver a compatible app.
"We've talked about our app store as a key way to distribute software that our developers are creating,"
Leap Motion VP of Marketing Michael Zagorsek explained in an interview.
"We're not going into it too much right now, because we didn't want to overshadow the launch date news, but we realize that we really need to shift the narrative of the company more and more to the apps that we're working to create."

But it is up to developers and their new creative ideas to unwind its full potential. We are already seeing a huge potential for gamers and for precise movement of RF-controlled devices a quad-copter or a car.
Initially, the Leap will only work Windows 7 and 8, as well as Mac OS X 10.7 and 10.8, with support for Linux expected at a later date. We wouldn't be surprised if it supported mobile devices soon, it definitely presents a very interesting Minority Report-like future for interactions.
Once again, it will land in stores on May 13th and pre-orders have already started, with "hundreds of thousands" already having placed theirs.
source:
Leap Motion