Leaked shot of Treo 800w
This article contains unofficial information.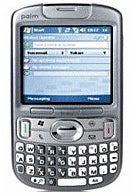 Several specifications of Palm Treo 800w
were posted
on the Treocentral's web-forum in the end of September. According to them, the 800w works in CDMA networks, features WiFi, but lacks miniUSB. Yesterday, a picture of the future device was uploaded on the same forum. The design of the phone resembles most of the Palm's products and especially Treo 680, 750 and 755p. The user, who uploaded the shot, also informs that the phone will be announced next month during a Sprint meeting and will be showed tomorrow at the Sprint Solutions show. That comes contrary to the previous rumors that the new Treo will appear with Verizon before Christmas.
source:
Treocentral
via
EngadgetMobile