Leaked rebate sheet confirms new Verizon strategy on rebates for high end devices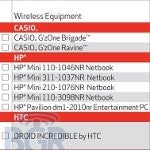 Yesterday we
reported
that internal Verizon documents that leaked, reveal that the carrier is eliminating all mail-in-rebates on its high-end phones priced at $150 or more, purchased at one of Verizon's retail stores. Currently, rebates are automatically removed from the purchase price of phones purchased online.
While Verizon hasn't confirmed the change, a leaked copy of Big Red's new rebate sheet for the two weeks ending on February 14th 2011 no longer shows any phones costing more than $149.99. For example, sharp-eyed readers with a copy of the prior form might notice that the Motorola DROID X is no longer on the rebate form. "Aha!", you say, "What about the Motorola DROID R2-D2?". To that, we answer that a price cut to $149.99 should be announced tomorrow or by Monday night, which would leave the device on the rebate form.
With this new policy expected to start after Sunday, if you are planning a weekend trip to your local Verizon store to buy a high end handset, you just might save yourself the hassle of mailing the rebate in if you wait until Monday to visit the store. Sure, you would get the money back anyway in the form of a debit card, but there are those out there who just find the whole process of making copies of UPC codes to be like having a tooth pulled.
source:
BGR