Leaked pic shows wooden backs that are coming to the Moto X "very soon"
14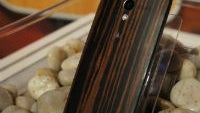 The general talk regarding the wooden options for the backplate of the Moto X has been that the choices would be coming to Moto Maker by the end of the year. In his interview with Marques Brownlee earlier today, Motorola CEO Dennis Woodside said that
new material options
would be "very soon"; and now, Evleaks has a new picture for us.
Evleaks tweet simply says "THEY ARE STILL COMING", which of course we knew. The interesting part was a new picture that shows the wooden backs brandishing the Verizon logo. We assumed that once the new materials came that they would be available for all carriers. The silly exclusivity options should be done at this point.
Unfortunately, "very soon" could mean just about anything. Though, if we had to guess, we would say that the wooden backs will be added to the Moto Maker no earlier than December 17th. The reason we would guess that is because Motorola is running another Holiday Deal promotion on Monday, and the users who get that promo will have one week to order a Moto X with the $150 off. That would mean the last day those could possibly be ordered is December 16th, and we doubt that Motorola would add the wooden backs before that deal is done.