Leaked photos show a new Windows Phone 8.1 multi-window feature
20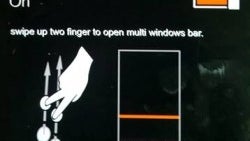 As far as Microsoft's smartphone efforts are concerned, all eyes seem to be on the upcoming Windows 10 for smartphones. However, a new leak shows that Windows Phone 8.1 could be updated to include a new and very interesting feature. A set of images recently leaked online showing a Lumia 930 smartphone running a special version of Windows Phone that allows users to open multiple windows on the screen simultaneously.
From the looks of it, the
Lumia 930
is not running some sort of beta version of Windows 10 for smartphones, but a special version of Windows Phone 8.1 instead. According to Micrososftinsider.es, the Spanish tech blog that originally posted these pictures, the ability to open multiple windows will only be available on Windows Phone smartphones rocking a 5-inch or larger display. Since opening multiple windows at the same time takes up more RAM, such a new feature could also require a certain minimum of RAM memory.
At the moment, neither Android nor iOS allow users to open multiple apps on the screen at the same time, although Samsung came up with such a feature in its TouchWiz implementation of Android (the Galaxy Note 4 can actually
run 3 apps simultaneously
). There has been a lot of talk regarding the utility of such a feature, but certainly more options are always a good thing when it comes to software.
Recommended Stories