Leaked BlackBerry OS 10.3 reveals some codenames for upcoming BlackBerry devices?
8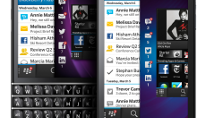 It looks like BlackBerry, which is experiencing some really hard times, won't go out without a fight. Numerous leaks and rumors hint us that the company could be working on a whole plethora of new devices, such as the
enigmatic Windermere
and the
mysterious Ontario
. But BlackBerry might have even more in tow for us, as the
recent BlackBerry OS 10.3 leak
reveals some additional codenames for smartphones, which the Waterloo maker could be secretly working on.
According to the leaked information, a
new high-end flagship smartphone might get released
along with the next iteration of BlackBerry's mobile platform. The device is allegedly sporting a quad-core Snapdragon 800 SoC, clocked at between 1.9 – 2.6GHz. But what's more interesting about this device is its display – allegedly, it is a 5-inch OLED one with a resolution of 1080x1920 pixels. If this rumor turns out to be true, the mysterious high-end device would be the first BlackBerry smartphone ever to be toting a 1080p display. This smartphone might come in 3 different variations, codenamed Euphrates, Tigris, and Mjölnir. Musket is yet another version of the smartphone, which is powered by an octa-core Exynos 5410 SoC.
The BlackBerry Ontario is another device that has emerged. We already heard rumors that the Canadian company is indeed working on such a smartphone. Rumor has it that it might also be toting a
Snapdragon 801 SoC (MSM8974AB)
and the leaked information from BB OS 10.3 seemingly confirms this.
The odd-looking BlackBerry Q30, codenamed Windermere, also appears to be powered by Qualcomm's Snapdragon 800 chipset and 3GB of RAM. Apart from these hardware specs, the most notable feature of the phone will most probably be its square 4.5-inch display, which is heavily rumored to come with a resolution of 1440x1440 pixels.
Khan (P'9983) is the codename of yet another BlackBerry smartphone, which is most probably the successor to the BlackBerry Porsche Design P'9982. The P'9983 could arrive as soon as Q2 2014 in North America, Europe, and the Middle East/Africa.
Only time will show if any of these rumored devices would bring the troubled manufacturer back on its feet.
source:
CrackBerry
via
BerryReview