Leak suggests that a Nokia Lumia 1020 successor could finally be in the works
46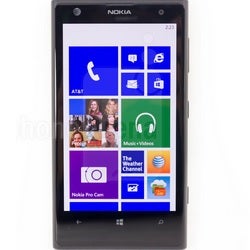 Fans and owners of the
Nokia Lumia 1020
have long hoped that a spiritual successor of the camera-focused handset would be forthcoming. With its 41-megapixel sensor, it's been a go-to for photography enthusiasts, and despite its age, the Lumia 1020's shooter can still more than hold its own against its peers. The time, many believe, has come for the 2013 release to make way for a newer model to push the boundaries of smartphone camera tech. A new leak, although speculative at best, offers faint hope that such a device could well be on the horizon.
Evan Blass, better known as serial gadget informant evleaks, has teased a blurred-out image of a Lumia-esque camera sensor, captioned with the tweet:
"don't give up hope, Windows fans."
The text is perhaps more telling than the image, in that many had essentially given up hope of a new handset along the lines of the
808 PureView
or the aforementioned Lumia 1020. Blass seems to imply that this image alludes to the long-awaited device, but until we hear more, it's all open to interpretation.
A side-by-side of the leak alongside the Lumia 1020's camera feature bears resemblance, underlining the notion that such a device could be in the works. Again, though, it's not really much to go on at this point, and those waiting for the so-called 'Lumia 1040' will need a more than a sketchy image to be convinced of its existence:
The Lumia 1020's camera module vs the new leak
Still, with Windows 10 coming soon, Redmond may surprise us. Let us know if you'd like to see an upgrade of the Lumia 1020 by dropping us a comment below.