Latest RUU for HTC One Developer Edition posted by HTCDev
1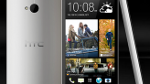 So there you are with your
HTC One Developer Edition
and its unlocked bootloader and after flashing some ROMs, you decide for one reason or another that you just want your phone to be returned to the state it was in when you received it. HTCDev has posted the latest RUU for firmware version 1.29.1540.16 that brings your handset back to the stock firmware state it was in when you received it last week. Android 4.1 is still going to be running the show, so don't expect some sort of back door update.
You might not need it now, but there might come a time when the RUU comes in handy. To snatch it up, click on the sourcelink below. The HTC One Developer Edition comes with 64GB of native storage, an unlocked bootloader and of course, an unlocked SIM.
The Developer Edition is not to be confused with
the Nexus Edition version of the HTC One
which will be offered unlocked, but compatible with AT&T and T-Mobile, and come with 32GB of native storage, The Nexus Edition HTC One comes with stock Android (well, close to stock since it needs to use Beats Audio for sound) and will be driven by Android 4.2.2. This variant of HTC's Android flagship will cost $599 from the Google Play Store starting June 26th.
source:
HTCDev
via
AndroidCentral