Latest NPD survey shows the same results as before, U.S. smartphone market is led by Android
35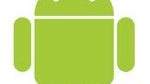 The latest snapshot of the U.S. smartphone market from NPD Group shows that
BlackBerry users
are jumping ship to the green robot and Apple. Last year, RIM owned 25% of the U.S. smartphone market, good enough for third place behind
Android
and
iOS
. And while BlackBerry remains in third place in the new survey which covers January through October 2011, RIM now has only a 10% slice of the pie. Considering that Android's leading marketshare jumpred from 42% to 53% in the same period and iOS users have 29% of the U.S. smartphone market, up from 21% in 2010, the conclusion is that many BlackBerry users in the States have jumped to Android and to a lesser degree, iOS.
It is hard to believe, but only 3 years ago Android had just 2% of the market while RIM had 40%. In 2009, an Android phone could be found in the hands of just 9 out of 100 smartphone using Americans while 44 had a BlackBerry in their palm. In a setback for Microsoft, the latest survey finds more Stateside smartphone users with
Windows Mobile
(3%) than
Windows Phone
models (2%). Still, all it took was a well designed phone in the Motorola DROID to get Android's numbers rising sharply and who knows if a similar fate awaits the Windows Phone OS.
source:
NPD
via
Phandroid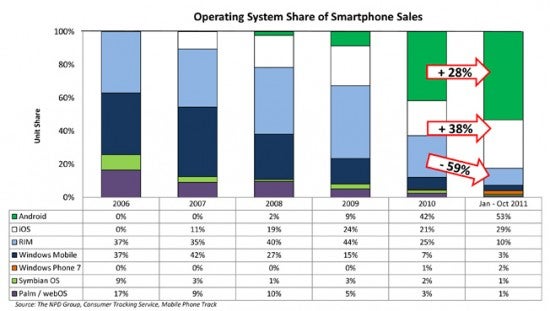 It's Android and iOS in the U.S. smartphone derby