Latest Developer Preview version of Android 5.0 appears to come with battery draining bug (Fixed)
16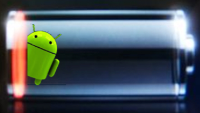 Android 5.0 is the latest build of Google's open source OS. Unfortunately, Lollipop has a bug that is sucking battery life right out of
Nexus 5
models that are running the latest Developer Preview version of the Android build. The problem has turned up on the Android-Developer Preview site as a number of Nexus 5 owners are complaining about their battery level dropping precipitously when Wi-Fi is enabled.
An abnormally high number of IRQ wake up events has appeared with this issue. This deals with waking a handset back up after it powers down, and is possibly a clue for Google to look at in determining what is causing the problem. Google has not said whether or not the battery problem is behind the delayed rollout of Android 5.0 to the Nexus 5 and other models.
"Android Engineering is aware of an issue affecting Nexus 5 users running Android 5.0 which causes significant "Miscellaneous" battery usage while WiFi is enabled. This appears to be caused by an abnormally high number of IRQ wakeup events. We are continuing to investigate this issue."-Trevor Johns, software engineer, Google
Certainly this is not an issue that Google wants a large number of consumers to deal with. And that means patience for those looking forward to receiving the update for their Android device.
source:
Google
via
Phandroid
UPDATE:
Trevor Johns, the Google Software Engineer quoted above, has now posted a message on the Android-Developer Preview site that reads, "This issue has been fixed in the latest builds, and this issue is now considered resolved. Thanks everyone."

So there it is folks. You can stop worrying about installing Android 5.0 only to find your battery sucked dry while on a Wi-Fi connection. Now get to sleep!
source:
Google