Last but not least, Facebook Messenger may out end-to-end encryption for your chats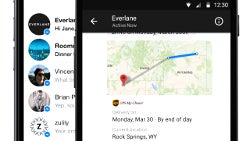 Moved by the privacy craze that is sweeping its competition, Facebook might add end-to-end encryption for Messenger. Yes, you heard that right - the world's second most popular chat application, enjoyed by about 900 million users, could be preparing to keep your private messages safe and secure from prying eyes.
We say enjoyed, as Facebook Messenger is perhaps the most full-featured and pleasant looking of all chat apps, and a lot of people may not use Facebook on a regular basis, but they do use its Messenger for the above reasons. Adding end-to-end encryption would be the cherry on the top of a chat app that already offers rich link previews, desktop client, thread video playback, stickers, and many more.
Another icing on the encryption cake will be that the eventual securing of Messenger might do away with its recent artificial intelligence features, like the
infamous chat bots
that it is rolling out with modest success so far. In fact, the report says that the end-to-end encryption would be optional, as Facebook's AI features will, naturally, not work if you choose secure messaging, since the content has to go through Facebook's servers. Still, if you don't care for the shopping bots, and you just want to keep your Messenger threads locked to the outside world, you may soon be able to do so. Good times.
Recommended Stories