Lady Gaga's upcoming 'Artpop' album will arrive as an iPad, iPhone app
16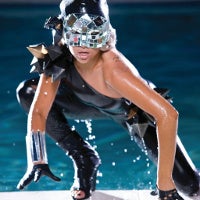 Eccentric singer and performer Lady Gaga's upcoming new album called 'Artpop' won't be just another music release but a fully immersive experience and the best way to dive into it will be an iPad and iPhone application. 'Artpop' is expected to land in a couple of forms including a more traditional only-music download but Gaga says the app will be best and deepest way to enjoy the new album.
Lady Gaga's 'Artpop' and the apps coming along are exected in spring 2013.
The iPhone and iPad app will be completely interactive with chats, films for each of the new songs, bonus music and Gaga-inspired content. The app is also designed to receive updates all the time and not just be a static experience.
Having a separate app is an interesting approach that brings us closer to the experience from back in the day when we had the physical packaging of the album with lyrics, artwork and other materials fans appreciated and we think it's a step in the right direction, both commercially and for the user.
We're not sure whether there would be an Android application, but Gaga's post does mention a
"mobile and computer compatible application."
The singer concludes jokingly
"start asking for IPADS FOR XMAS!!"
source:
Little Monsters
via
BBC