LIVE: HTC's big return with the HTC One
91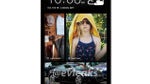 Today is the day for HTC. After a long and painful transitional period, HTC is now ready to begin anew in its life as a smartphone company. Today is the day when HTC will (most probably) announce the new HTC One - its new flagship Android smartphone.
We've already heard a lot about this new smartphone, we've seen many leaks, and we have an almost complete idea about what it's going to be. However, we think it'll be best if we leave it to the HTC team to do the official introduction. After all, we wouldn't want to steal their moment.
Starting at
10AM Eastern | 9AM Central | 8AM Mountain | 7AM Pacific and 3PM GMT
, Peter Chou and company will take the stage to walk us through their latest and greatest invention. Be sure to stay with us, as we'll be bringing you all the details as they come out with the liveblog that can see below. Enjoy reading it, and don't forget to share your thoughts about the new device with us!