LG's and Samsung's Display divisions will sort out their differences outside court
16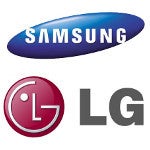 LG and Samsung, or rather their respective Display divisions, have been exchanging kicks and punches in court since quite a while, but it seems that both companies have had enough of this. The news is that their executives have secretly met in a hotel (probably somewhere in South Korea), with the result of the meeting being that they'll now try to sort their differences out through dialog instead of litigation. We approve! Make love, not war, guys!
As you can imagine, Samsung Display has been suing LG Display for infringing on its OLED and PLS patents, while LG Display has been counter-suing Samsung Display for infringing on its OLED patents. Go figure!
Historically, Samsung has been using AMOLED-based displays in pretty much all of its higher-end phones. For those who don't know, the cool thing about these displays is that they deliver stunning images due to their incredibly high contrast ratio and vivid colors. On the flip side, though, their color temperature is somewhat unnatural, allowing the advanced LCD screens of today to gain the advantage in this respect. It is still impossible to say which of the two technologies — AMOLED or LCD — is better, because they both have their pros and cons.
via:
SammyHub