LG's 4.5-inch high-res AH-IPS display beats Super AMOLED Plus in color accuracy
19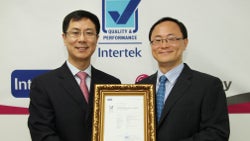 LG's Advanced High Performance In-Plane Switching (AH-IPS) display measures at the spacious
4.5-inches
, but it doesn't sacrifice resolution with a whopping
pixel density of 329ppi
, thanks to the 720 x 1280 pixel resolution. That makes it a direct competitor to Samsung's AMOLED series.
LG argues that the AH-IPS display is superior and now it has the certification to prove it as testing company Intertek gave the technology its Quality and Performance Mark for
color accuracy
. Compared to the Samsung's latest Super AMOLED Plus display featured on the Galaxy S II, the AH-IPS manages to reproduce colors more accurately, while the screen its self is more
power-savvy
as it consumes the same amount of energy regardless of whether it displays bright or dark colors. AMOLED displays in contrast drain nearly twice more power when screening white colors, while power consumption drops to nearly zero for blacks.
Color accuracy, on the other hand, was three times better on an IPS screen than on Samsung's AMOLED, which in return offers punchy colors with pumped up contrasts and plenty of eye candy.
"The certification from Intertek proves that AH-IPS is more suitable for mobile displays than AMOLED,"
Sang Yeoup Rhee, VP of AH-IPS Marketing in LG Display said.
"With credible global testing demonstrating the superiority AH-IPS, LG Display plans aggressively to promote and to highlight the superior performance of AH-IPS to consumers."
Currently, Samsung models like the Galaxy S II represent Super AMOLED Plus on the market, while the iPhone and the iPad both sport high-res "retina" IPS displays. Which display technology do you prefer and why? Feel free to take a mind refreshing peek at our comprehensive
comparison between different screen technologies
before leaving your opinion at the comments section below.
source: LG