Samsung delays its flexible displays
17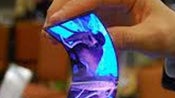 Samsung's flexible displays that the company hoped to bring to smartphones by the end of the year might be delayed because of an issue with the encapsulation technology.
Problem is that while Samsung has perfected its manufacturing technology, OLED displays also require encapsulation to protect them from moisture and oxygen. Samsung had contracted Vitex System patents for that, but it now seems to have some serious issues with the encapsulation process.
The issue with Vitex technology is that it slows down production significantly and that's why Samsung is looking for a different encapsulation technique.
"As we have accumulated expertise in this field, progress is being made in substrates as well as encapsulation technology. We have developed a new technology than can shorten the encapsulation process to less than 2 minutes by using the Vitex System-developed encapsulation technology,"
Samsung said.
Interestingly, this report comes just days after LG bragged about being
ahead in the flexible display race
, as it expects to be the first company rolling out the technology.
source:
ET News
via
Sam Mobile