LG to announce 4G-enabled G Watch R2 at MWC 2015?
8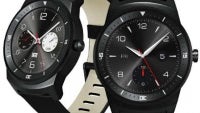 Business Korea reports that LG will showcase a 4G-enabled smartwatch in 2015. Faster network support will be introduced to accommodate larger data transfers, which is a prerequisite for more advanced wearable devices to come. The one in question is tentatively called the LG G Watch R2, which doesn't sound like an all-new device, but more like a revision of the circular G Watch R we know and love.
This doesn't mean LG can't add unsuspected goodies and refinements to the second generation G Watch R, but for now, we can only confirm the 4G/LTE connectivity. It's not known whether the device will offer calls over data, either. The current-gen LG G Watch R supports 3G and Wi-Fi data and offers no calls. Out of big brand smartwatches, only the
Samsung Gear S
has this functionality.
Samsung will probably come up with a similar 4G-enabled smartwatch too. Not only it has to keep up competition with its Korean rival, but both companies will have to face off against the Apple Watch this year. If we know them, this means stuffing as much technology as possible inside the tiny watch body and hoping for the best.