LG surprises with good-looking budget phones in March
2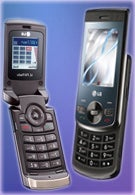 GD330
and is a mid-end slider, which tries to be a pretty phone, resembling the high-class Secret,. The upper part of the body is leather-coated and the front side sports sensor soft keys, both contributing to its nice and fresh appearance. Other than that, do not expect wonders from the GD330. It features a 2.2-inch display and a decent 2-megapixel camera. Fortunately, this one is said to hit the market soon - on March 25 at the affordable price of $200.
The manufacturer also has a little something for the ones that just want to have a good talk every once in a while and maybe send a message or two to their friends. The
GB125
seems to be the perfect device for the purpose. Although being a clamshell equipped with a really unpretentious hardware, it is a result of an intriguingly uncommon design solution. When closed, it looks very elegant and stylish, but opening it reveals a rather rough, yet harmonious appearance. As a phone, the GB125 does not offer anything extraordinary… as we come to think of it, it doesn't offer almost anything at all, except for one really cool feature – a built-in radio antenna, which allows you to listen to radio without having the need of using headphones. It also has a small 1.5-inch CSTN display and a 950mAh battery. It should be expected also on March 25, at the generous price of $65.
source:
Mobile-review
(translated)