LG says curved phones will be 40% of the smartphone market by 2018
12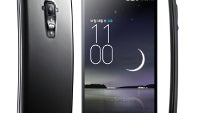 By 2018, curved phones like the
LG G Flex
will make up 40% of the smartphone market, according to Korean based LG. The OEM's head of product planning, Dr. Ramchan Woo, said "
We got bored of flat
." But the LG G Flex offers more than just a cool, curved design. Thanks to the form factor of the device, the phone fits better when pressed against the curve of the user's face.
While designing the LG G Flex, LG discovered that building a curved handset requires more than just a screen that bends like Gumby. Dr. Woo noted that the big secret of the phone is the curved battery. "
Without the battery, we cannot make the phone
," the executive said. And thanks to a "Stack & Folding" design, LG was able to shoehorn a hefty 3500mAh cell into the device. The LG G Flex is tough and can actually take more than an 88 pound force on its back, straighten out, and then return to its curvy form factor. That test was repeated over 100 times without permanent damage to the phone.
While it took three years for LG to develop the G Flex, having already gone through the necessary manufacturing changes, future curved models won't take as long. And so, what does have LG have planned in the future for this genre? After the curved phones, we will see bendable handsets, according to Dr. Woo. After that, truly flexible phones will be delivered.
Woo sees curved models making up 12% of the smartphone market by 2015 with the figure reaching 40% just three years after that. This year, the LG G Flex has company with the
Samsung Galaxy Round
. While the LG G Flex curves in from the top and bottom, Sammy's model curves in from the sides.
source:
SlashGear
Recommended Stories