LG puts tablets on hold, focusing on smartphones
12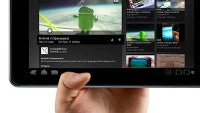 LG is virtually
suspending its tablet development
and will instead focus on smartphones, in an environment where Android tablets find it hard to compete with market-dominating iPad.
"We've decided to put all new tablet development on the back burner for the time being in order to focus on smartphones,"
LG spokesman Ken Hong said.
LG was among the first to jump on the Android tablet waggon with its 3D-enabled 8.9-inch Optimus Pad also known as the T-Mobile G-Slate. The 3D hype didn't seem to impress users, but LG still unveiled an updgraded Optimus Pad LTE tablet earlier this year.
At the same time, this announcements coincidentally happens right after Microsoft lifts the cover off its
Surface tablets
. The upcoming Surface tablets are allegedly not
"competing with anything we're focusing on at the moment,"
LG clarified, so it seems that the real reason is squeezing out a margin in a space as competitive as tablets.
LG's renewed focus on smartphones is definitely something that the company needs. Its current portfolio of devices includes phones like the Optimus 4X on the high-end and the L series for the mid and low tier.
Recommended Stories