LG provides a thorough, albeit robotic, rundown of its clever Bluetooth Tone Infinim headset accessory
11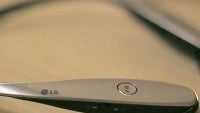 While it does not have the volume of Samsung, LG hardly operates in the shadow of its larger conglomerate cousin when it comes to features and accessories.
Recently,
LG introduced its Tone Infinim
(HBS900) headphones, with Harman/Kardon audio technology, as the perfect accessory to the flagship
LG G3
smartphone. Given the depth of features on the phone and these headphones, that is arguably a correct assessment.
So, LG decided to go in-depth with everything its new Tone Infinim Bluetooth headphones can do. After all, if you are going to part with $150 of your hard earned cash to buy an accessory for your smartphone, it helps to be able to take advantage of all the features.
These headsets boast an impressive 14 hours of audio playback time, 17 hours of talk time, and over 22 days of standby time. That is not bad for a little 220mAh battery. The rest of the feature list was born and bred for the LG G3.
The feature video is thorough, and a bit basic, but that is not what makes the experience frustrating. Simply, it feels like everything is being conveyed via some type of computer companion, that makes the LG Tone Infinim headphones a tad difficult to relate to.