LG intros new premium Bluetooth headphones developed with Harman/Kardon
15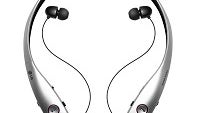 LG dubs these new headphones as the "perfect accessory for the LG G3," so if you were still having doubts about the next LG flagship, that should allay your concerns. Today in Korea, LG announced its newest premium Bluetooth headphone gear which was developed in partnership with Harman/Kardon.
The LG Tone Infinim (HBS900) Bluetooth headphones maintain the same collar form factor of previous LG headsets, but with Harman/Kardon audio technology. This iteration of the LG Tone series packs all the features you want with Bluetooth devices.
For the active individual, there is a jog button for fast forward and rewind of your music. There is also a vibration alert to augment audio notifications of messages, time and battery status.
A couple super smart features of the LG Tone Infinim that are exclusive for
LG G3
owners are Name Alert, which will announce the name or phone number for an incoming call, and Answer Me+, which will automatically disconnect the headphones if you choose to simply lift your G3 to your ear for an incoming call and use the handset.
"LG's newest premium headset co-developed with Harman/Kardon will be the perfect companion device to complement our new flagship smartphone LG G3, offering superior sound for a superior phone," according to Dr. Jong-seok Park, President and CEO of LG Electronics Mobile.
The LG Tone Infinim has outstanding battery life too. The 220mAh battery will provide up to 17 hours of talk time, 14 hours of playback time, and a whopping 550 hours of standby time. One odd point we see in the specs is these headphones use the Bluetooth 3.0 standard.
These new headphones will be available worldwide this summer, presumably at, or after the launch of the LG G3. The initial color scheme will be silver, but more choices will be available later. Pricing was not announced, but the LG Tone Ultra (HBS800) retails for $120. Those headsets had JBL audio tech inside. With a Harman/Kardon logo on these new headphones, we will safely guess the LG Tone Infinim will start at a price point north of rest of LG's mobile audio line-up.
source: LG
LG COLLABORATES WITH HARMAN/KARDON
ON PREMIUM BLUETOOTH STEREO HEADSET

LG Tone Infinim Offers Stylish Design and
Superior Sound Quality, the Perfect Accessory for LG G3

SEOUL, May 18, 2014 ― LG introduces its newest premium Bluetooth stereo headset developed in collaboration with Harman/Kardon, one of the leading audio equipment manufacturers. With superb sound experience certified by Harman/Kardon, LG Tone InfinimTM (HBS-900) delivers great sound in a stylish design highlighted by sleek curves and glossy metallic finish.

The Tone InfinimTM also provides upmost comfort to users, thanks to LG's innovative retractable wire management technology that leaves no exposed wires to tangle. Tone InfinimTM is equipped with a jog button to fast forward and rewind effortlessly, as well as a sound and vibration alert function to inform of incoming messages, current time and battery status. All this while offering the longest standby time ― 550 hours ― among behind-the-neck type Bluetooth headsets.

While Tone InfinimTM is compatible with all smart devices with Bluetooth, it is particularly optimized for LG's upcoming G3 smartphone. Name AlertTM, which announces the name or phone number of the calling party, is one feature that is only available to G3 owners. Another feature exclusive to G3 users is Answer Me+, where raising the G3 to one's ear will automatically disconnect Tone InfinimTM to allow for direct use of the smartphone.

"LG's newest premium headset co-developed with Harman/Kardon will be the perfect companion device to complement our new flagship smartphone LG G3, offering superior sound for a superior phone," said Dr. Jong-seok Park, president and CEO of the LG Electronics Mobile Communications Company. "With Tone InfinimTM, LG is continuing the trend established by the original Tone for offering premium Bluetooth headsets that are both comfortable and stylish."

"We are excited to collaborate with LG on their newest Bluetooth headset," said Michael Mauser, executive vice president and president of Harman's Lifestyle Division. "Harman/Kardon has a 60-year legacy of creating premium audio and ground-breaking sound technologies. When a product carries the Harman/Kardon name, it is confirmation that the device will offer class-leading audio quality and outstanding design."

LG Tone InfinimTM will be available starting this summer in major markets worldwide. Additional details of availability will be announced locally in the weeks ahead.

Key Specifications:

- Bluetooth Chip: CSR8645
- Bluetooth Version: 3.0
- Bluetooth Profile: A2DP, AVRCP, HFP, HSP
- Talk/Play Time: 17 hours/14 hours
- Standby Time: 550 hours
- Battery: 220mAh
- Microphone: Single MEMS
- Color: Silver (other colors to be announced later)
- Connector: Micro USB

# # #
Recommended Stories