LG makes fun of Samsung for not offering the Galaxy Note5 in Europe
51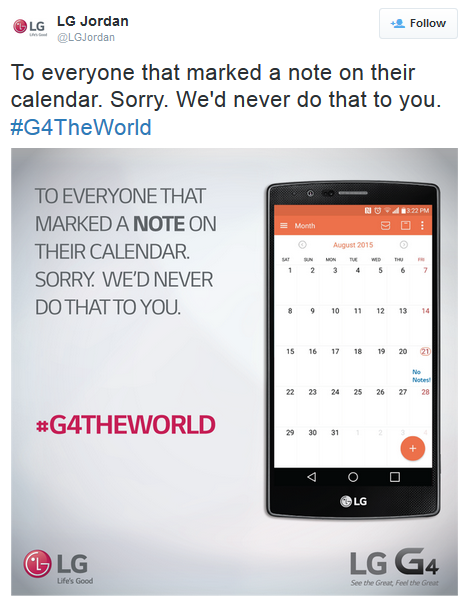 LG Jordan makes fun of Samsung for not offering the Galaxy Note5 in Europe
As you probably know by now, the
Samsung Galaxy Note5
will not be available in Europe this year
. In the continent, the manufacturer wants to focus on the
Samsung Galaxy S6 edge+
. The move by Samsung was a surprising one, especially to those in Europe that were really looking forward to picking up the latest version of Sammy's high-end phablet.
LG Jordan decided to poke a bit of fun at Samsung. Turning to its Twitter account, the LG unit sent out a tweet containing a picture of the
LG G4
with a calendar app on the screen. With the August 21st launch date of the Samsung Galaxy Note5 circled, the words "No Notes!" is printed for the 21st. That, of course, signifies Samsung's decision not to sell the Galaxy Note5 in Europe. LG Jordan writes on the tweet, "
To everyone that marked a note on their calendar. Sorry. We'd never do that to you. #G4 TheWorld
."
This isn't the first time that LG has taken to Twitter to rag on Samsung. The day after the infamous Ellen selfie was taken with a
Samsung Galaxy Note 3
during the 2014 Academy Awards telecast, LG sent out a tweet saying that with the rear controls on the
LG G3
,
Ellen could have snapped the selfie herself
had she used the LG flagship.
LG is hoping that some jilted European consumers decide to pick up the LG G4 instead of waiting for the Galaxy Note5 to be offered in the continent.
Thanks for the tip!
source:
@LGJordan