LG introduces four new mid-range Android smartphones (UPDATE)
16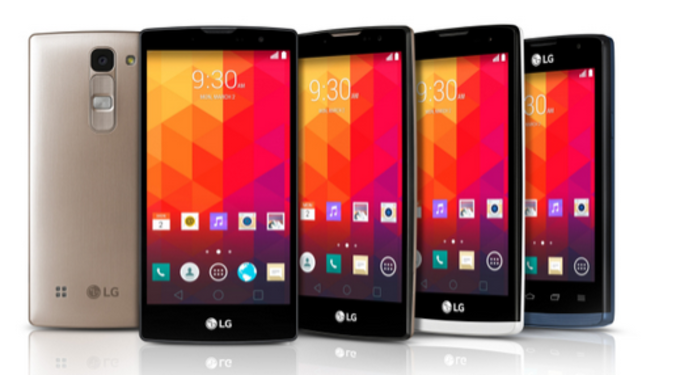 LG introduces four new mid-range Android handsets
On Monday morning, LG announced four new mid-range smartphone models. Each of the four is available in a 3G and 4G LTE variant. The
LG Joy
has a 4-inch screen with a resolution of 480 x 800. Under the hood is a dual-core 1.2GHz processor or a quad-core 1.2GHz CPU. Depending on the region, there is either 8GB or 4GB of native storage. A 5MP camera is on back while a .3MP snapper is on the front of the phone. A 1900mAh battery keeps the lights on.
The
LG Leon
features a 4.5-inch screen with resolution of 480 x 854. Depending on the market, there is a 1.2GHz processor or a quad-core 1.3GHz CPU driving the device. The phone offers 8GB of native storage, and the rear camera is an 8MP or 5MP shooter depending on the region. Power and volume buttons are located on back, and there is a 1900mAh battery keeping the fan spinning.
With a 4.7-inch glass, the
LG Spirit
offers a 720 x 1280 resolution on the screen. Driving the phone is a 1.2GHz or quad-core 1.3GHz processor. 8GB of native storage is on board and a 2100mAh battery keeps the power on. An 8MP camera adorns the rear, while a selfie stick ready 5MP snapper is found up front. This model also has the power and volume buttons on back. The
LG Magna
has the same exacts specs except for a larger 2540mAh battery.
"For millions of consumers around the world, the deciding factor on which smartphone to buy isn't how fast or how big it is but how balanced it is. With our new mid-range smartphones, more and more customers will be looking to LG for their next handsets."-Juno Cho, LG Mobile
As LG is wont to do, some of the features found on its high-end models are included in the new mid-range phones. For example, the four handsets support the use of gestures to trigger a timer for a selfie. All four also will include
Glance View
. The latter allows you to swipe down from the top of the screen while the screen is off, and see the time and any notifications. While LG did not release pricing information on the four models, the new handsets will be available in selected markets starting this coming week.
via:
TechCrunch