LG executive knocks Apple and HTC while revealing a new line of metal phones
53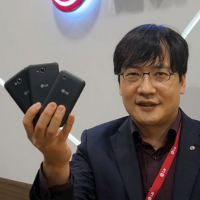 In an interview with a Russian blog, LG's Chul Bae Lee casually tossed out some interesting observations about the competition, while revealing that the Korean manufacturer has something planned for those who want their smartphone encased in metal. Lee, who is the vice-president and head in the direction of mobile communications in the design center of LG (imagine fitting that on a business card), was asked why LG has not used a metal casing for its phones. He asks, if metal is such a great design, why isn't HTC number one in the market?
Another point he makes is that metal makes getting good signal reception on a phone more difficult. Talking about the Apple iPhone, he says that everyone knows that Apple has bad signal reception. He adds that because Android uses more energy than iOS, LG would not consider even a thin model with a large screen like Huawei produces, saying that it would doom users to constant recharging.
Lee did admit that LG is considering a separate line of metal encased phones. He stated that it would not be something released right now, but when LG feels the time is right. He did give some information about this potential new line, off the record. The executive also said that he sees smartphones returning to a more minimalistic look, including the UI. He pointed to the
LG PRADA
, one of the first touchscreen models released, as the direction in which new handsets are headed.
The LG executive also revealed that pre-release surveys on the rear placement of the power and volume keys, which debuted on the
LG G2
, showed 50% were in favor of it, which he called a good result for a new feature. So far, he says that LG customers have apparently approved of the unique placement, saying that reviews have been good.
Thanks, Anonymous Tipster!
source:
Hi-Tech@Mail.ru
(translated)